Investing in massage is an investment in your health.
To schedule a session or inquire about home visits, text or email me.
MASSAGE THERAPY RATES (All modalities are offered at the same rate)
$100 for 1 hour

$150 for 90 minutes

$200 for 2 hours ($300 for 3-hour sessions)

$90/hr on your Birthday! (show ID for discount)
($50 charge for home visit)
GUIDED MEDITATION (online or in person)
I personalize each meditation and offer other practices to boost people on their paths of growth, happiness, self-awareness and serenity. I help people find practices that resonate with them. I love helping people find ways to become motivated and inspired to engage in practices that enhance their life's fulfillment.
$1 per minute (minimum of 30 minutes)

Add a 10 minute guided meditation before you massage for an additional $10. Most people get this service on the table while getting a light cranial or foot massage

Private, Group and Individual Sessions are available
WELLNESS CONSULTATIONS (online or in person)
Find ways to make your life more serene and fulfilling!
There are many practices besides meditation to help bring serenity, awareness and growth into our lives. If you have a desire to begin such a routine in your life but are not sure which direction to take, this consultation would help you become aware of various practices and tune in to practices that resonate with you. We'll also consider how to implement practices so that they fit into your schedule in a way that doesn't make you feel stressed.
$1 per minute (30 min minimum)

Ongoing guidance or motivation strategies available in person or online
TESTIMONIAL
"I was introduced to Kira for massage and meditation. We discussed my return to work after 2 years off recovering from a concussion. Together we developed (self-care strategies) along with a variety of recorded meditations... Kira has been skillfully supportive with wonderfully keen insights on recognizing limits and achieving balanced calm and grounding throughout a busy healthcare workday. Kira is a delight to work with, I highly recommend her for both massage and meditation." ~ Health Care Worker, Post-Concussion, 2022
"Kira really listened to me and asked questions that enabled her to provided a massage that was a unique treatment for my needs. She relieved pain and I felt increased energy and mobility. Kira truly cares about helping her clients." ~ Manager, Athlete, 2016
Kira Davis, L.M.T., Boulder, CO
To schedule a consult or a session, text or email days and times that you are available.
Email: IntuitiveTouchMedicalMassage@gmail.com
12mountains@gmail.com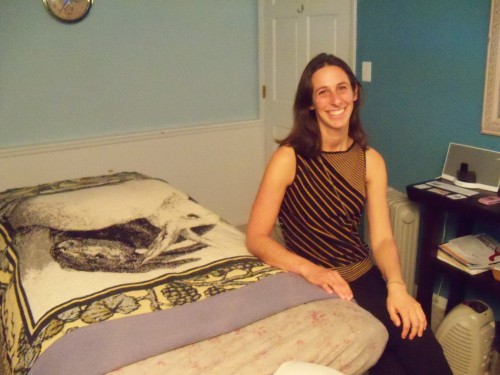 Payment is due at the time of the session. Rates are subject to change.
PayPal, Zelle, or Venmo: If there is a fee associated with your payment method, an additional 3-5% charge will be included.